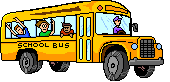 Stuff the Bus with School Supplies
Please come by the School Supply Rodeo and drop off school supplies. We will be stuffing supplies on the bus again this year. Refreshment will be served and Rita's Italian Ice will be on site to offer you something cool.
---
Congratulations to the JPTIS Teacher of the Year
Mr. Cliff Gardner, Band Teacher.
---
Congratulations to the 2014 JPTIS Spelling Bee Champion Maria Corea, Runner up after 25 rounds Christian Spires and in 3rd place after 5 rounds Vataha Wesley
Click on Spelling Bee to view the photos of all the competitors.
---
---
JPTIS has an Absolute Rating of Average and an Improvement Rating of Excellent.
Out of 311 middle schools in the entire state, J. Paul Truluck Intermediate was one of the 13 schools who received an excellent improvement rating. We actually had the 13th highest improvement rating in the state for middle schools. Click here for the link to the state report card.
---
Box Tops! JPTIS's goal is to raise $1000 this year which is 10,000 Box Tops! The final collection for the 1st round of competition will take place on December 18th! With the winning class being announced on the 19th! The top 3 classes are Mrs. Healy, Mrs. Smith, and Mrs. Madison all with over 100 Box Tops!
---
Our students are participating in the National History Day project competition. Click here for the time line of items due.
---
Our 1st Quarter Awards Ceremony photos are available by clicking on PHOTOS.
---
Attention all Reading Counts student competitors...
The Reading Counts program is only accessible on the school server. However if you go to the Scholastic site there is a way to type in book titles and find the lexile and number of points of each. Here is the link:
Scholastic Reading Counts Information
---
Grandparents Day was celebrated on Wednesday
the 11th of September at JPTIS.
click here to see a slideshow of the photos.
---
Click on "Calendar" on the left navigation bar for the latest happenings at JPTIS!
---
Click Newsletter to view latest school newsletter, or you can go to School Publications on the left navagation bar.
---
Please click on "Calendar" on the left navigation bar for the latest happenings at JPTIS!
---
---
This brochure is also available by selecting "School Publications" on the left-hand navigation bar.
---